A chapter of Saving Animals from Euthanasia (S.A.F.E.)
Over 7,200 animals saved since 2002
Serving Central Virginia
"She is just great! She misses her siblings, wants lots of attention,and the purring is nonstop.....just a ball of fire! We are loving her! Thanks for getting us together! She loves the rings with the ball in it and is working on her computer skills! See her picture"- VR
"He is doing great! He and my son have been inseparable and he is fitting into our household nicely. We are all having fun with him. He's right in your lap if you're watching TV, and always ready to play." - KB
"I want to thank you again for the wonderful gift of Oliver and Sherlock! They are doing well, and seem quite happy and settled. Oliver is very cuddly, and always comes for a morning snuggle. He loves his Greenies! He is also fond of my oldest granddaughter, and rubs all over her when she comes for a visit. Sherlock loves to play, especially with her feather toy. You're right, she is a veritable purr machine. Thanks you for your cute card that you sent me. You are a blessing in my life, and I will always be so grateful to you for rescuing my two adorable kitties. Love, Lynn"
"Just a quick update on our new "daughter." She continues to captivate everyone in our family. She and Hallie, our 8 year old black cat, have begun playing with each other - we hear them racing around the upstairs, chasing one another all over the place. She and Daisy, the year old lab, are just so calm and casual with each other. It's like they have always been together. Hope you continue what you do!" --Gaye E.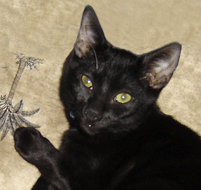 "Thank you for safe-housing Chip during his early days. He's very friendly around people and very inquisitive; he's the first cat I've had that charges into the bathroom when I open the door (and if I run the faucet, he'll jump up and swat at it!). He has increased a lot in size since I got him. He has also been accepted by my other cat, who is a 7 year old male and is also black. At night he sleeps on a chair in my bedroom. Right now he's in my lap as I type this email. Thanks again for taking the time and expense to raise Chip, it really shows in the way he "made himself at home" from the first day he got here. Sincerely, Brendan C."